A Conversation with Kenji Kawahara of "Gyoza no Big Five," a gyoza factory in Kagoshima City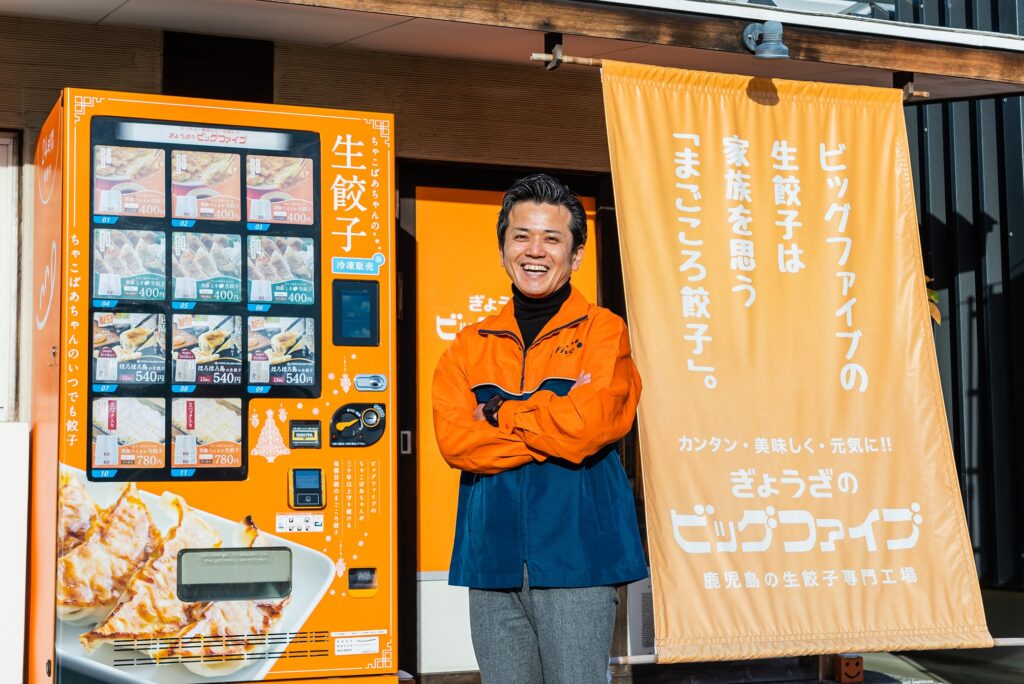 "Gyoza no Big Five" is a Kagoshima City factory specializing in gyoza production (dumplings). They develop and sell their original gyoza, which is popular both online and in stores and also manufacture gyoza for commercial use. With the motto of making safe products that meet the needs of the times, they develop a variety of tasty gyozas using ingredients from Kagoshima, an area known for its treasure trove of food. Their delicious gyoza is often introduced on TV and in magazines as gourmet foods that can be delivered straight to your home.
---
Gyoza no Big Five
Kagoshima,Kagoshima Prefecture
---
Kumazawa: What interested you in using our rice hydrolysate for your company's gyoza?
Mr. Kawahara: We wanted to make something natural. As we explored ways to make dumplings that use minimal ingredients, we wanted to find a way to remove "processed starch," used as an alternative to potato starch, to hold the ingredients in place. Processed starch is also used in the gyoza wrapping to make it chewy, but we also wanted to eliminate this from the ingredients label. This was when we came across NHP's rice hydrolysate. We thought your product would be a good match for our company's direction because we could make gyoza in a natural way using rice flour, a material familiar to the Japanese.
Kumazawa: Thank you for reaching out to us. I recently read a book about your company's foundation story, and I resonated with how, with the founder finding inspiration in his mother's foods, your company strongly emphasizes creating natural and safe flavors reminiscent of a mother's homecooked meal. Although you are working on various new initiatives, the fundamental concept of product development is safety and security, isn't it?
Mr. Kawahara: Yes, it is. At our company, we often talk about the function of food. It is said that food has a primary function of nutrition to sustain life, a secondary function of flavor so that one can enjoy a meal, and a tertiary function to regulate one's physical condition. However, safety and security are food's essential functions at the most fundamental level. Although we primarily look at our safety measures from a numerical perspective, customers find the information provided on the ingredients label most reassuring.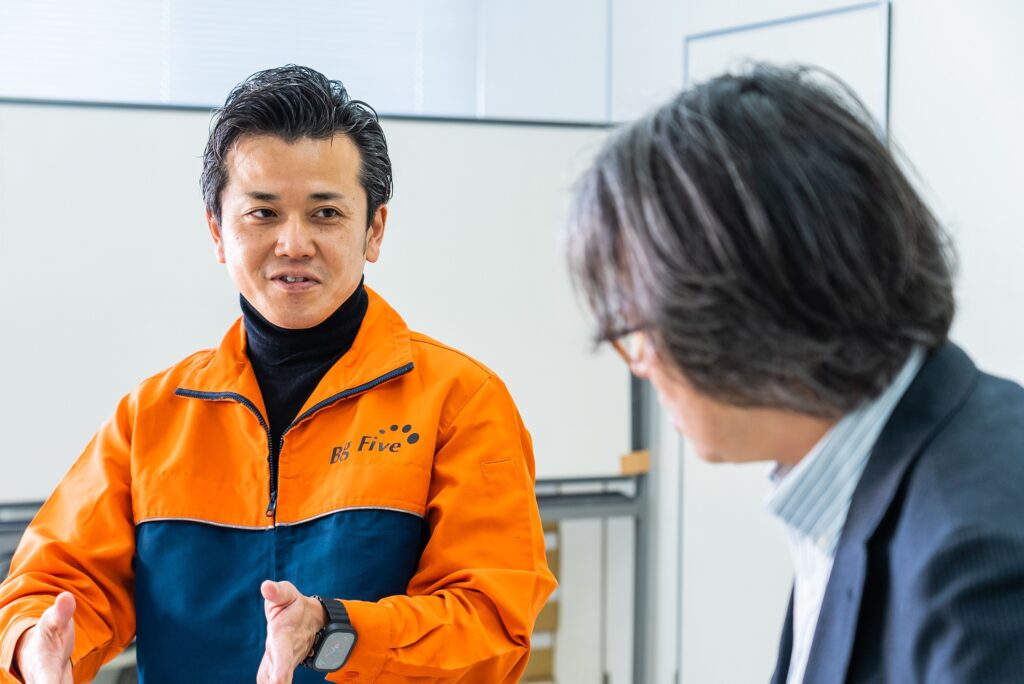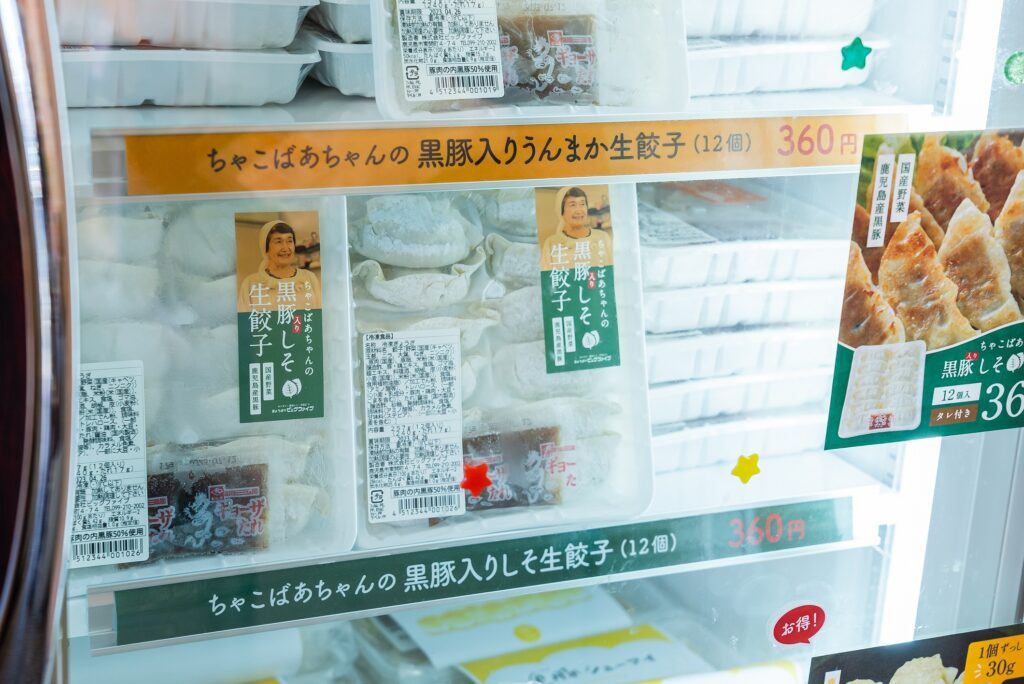 Kumazawa: I agree. I'm also curious about what ingredients a food product uses. Our rice hydrolysate has the same role as a thickening agent and emulsifier, but since it is processed without chemical treatment, it is not an additive. Therefore, it can be labeled as "rice flour"–a food product.
Mr. Kawahara: Our company was founded by my mother, who started making various menus with no machines. Gyoza no Big Five began with the desire to make delicious food from a mother's point of view, which is genuinely handmade. Today, we have a factory and a large site, but that does not mean we want to increase productivity by using additives in an industrial manner. NHP's technology helps us in this regard because we can continue to make gyoza that reflects our founding philosophies.
Kumazawa: That means a lot. I am also a big fan of Big Five's gyoza. We had them cooked for a tasting today, and our staff, who had never tasted them before, were amazed at the chewy wrap and juicy filling. Can you tell us exactly how NHP's ingredients influence the taste of the dumplings?
Mr. Kawahara: The quality of gyoza filling is unstable because the water inside the meat and vegetables comes out as time passes. However, NHP's ingredients hold in the water and keep the dumplings juicy. Also, for the wrap, we have researched and used the best amount of hydrolysate to bring out a chewy texture that cannot be brought out by ordinary gluten alone.
Kumazawa: I feel you're talking about something that might be a bit of a trade secret, but are you open to sharing more?
Mr. Kawahara: Yes. Good things will always become known to the world, and sooner or later, those who are eager to research will take notice. Thanks to you, our company was one of the first to introduce rice hydrolysate, and we intend to evolve further by continuing to develop, improve, and research our products to keep up with the competition. Besides, the actual trade secret is not only about using good materials but how you make use of them.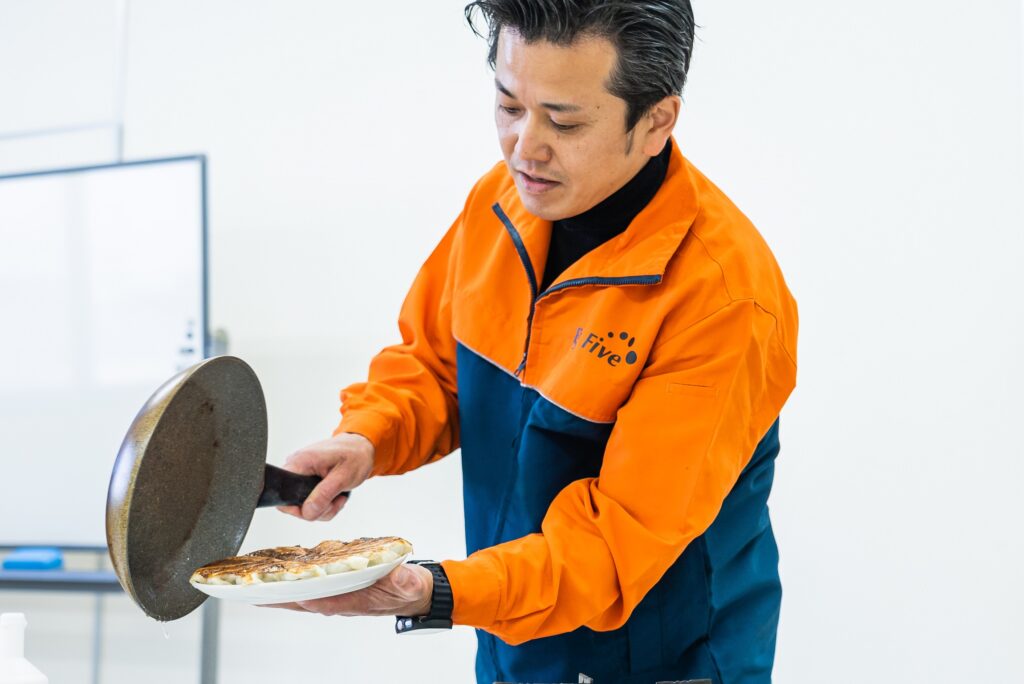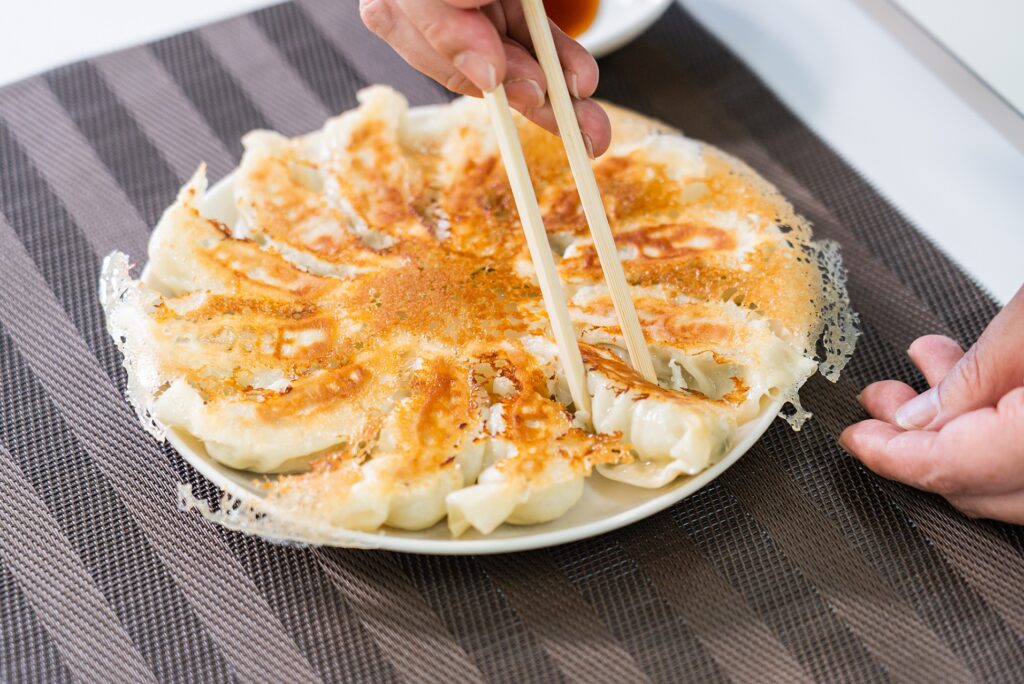 Kumazawa: Moving on, I would like to discuss our future vision. At NHP, we are working vigorously with various partners in Kyushu and would like to pursue production here in Kyushu proactively. Although we can't share all the information yet, we are preparing to produce decomposed fish and meat products in Kyushu soon. When the time comes, we would love to work with you to develop food products using these products.
Mr. Kawahara: I see a lot of potential in that because NHP hydrolysis brings out the best in various materials while changing their properties; this could be a clue in how to bring out more flavor in meats.
Kumazawa: By the way, in the case of fish, we intend to use the parts of food loss, such as bones, from processing.
Mr. Kawahara: That's fascinating. Fish processing is a lot more waste than you can imagine. There is meat between the bones, but it costs a lot to take it all out, and I see large quantities of it being thrown out on-site. I thought it was a waste because the bones and head have the most DHA and calcium.
Kumazawa: Exactly. We want local raw materials to be used locally and consumed in the region and throughout the country. We would like to contribute to local industries. Thank you for your time today.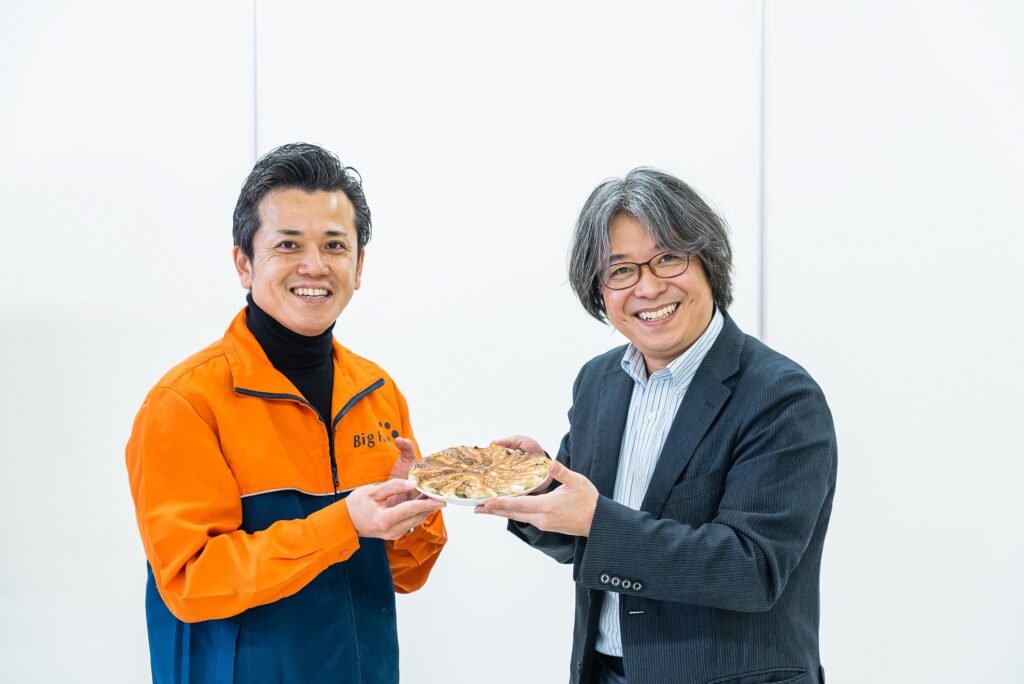 (Interviewer:Kumazawa,NHP)
---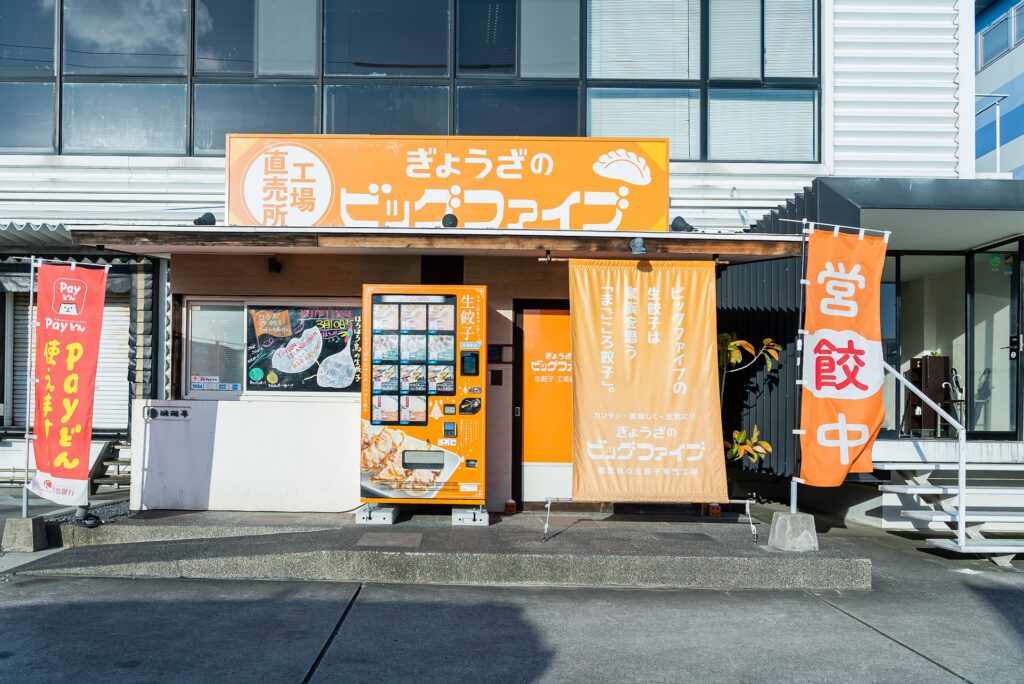 Gyoza no Big Five
4-74 Tokaicho,Kagoshima-shi,Kagoshima
JAPAN 891-0115