A Conversation with Sano Takashi of the Hakata City Staple, "Chocolate Shop"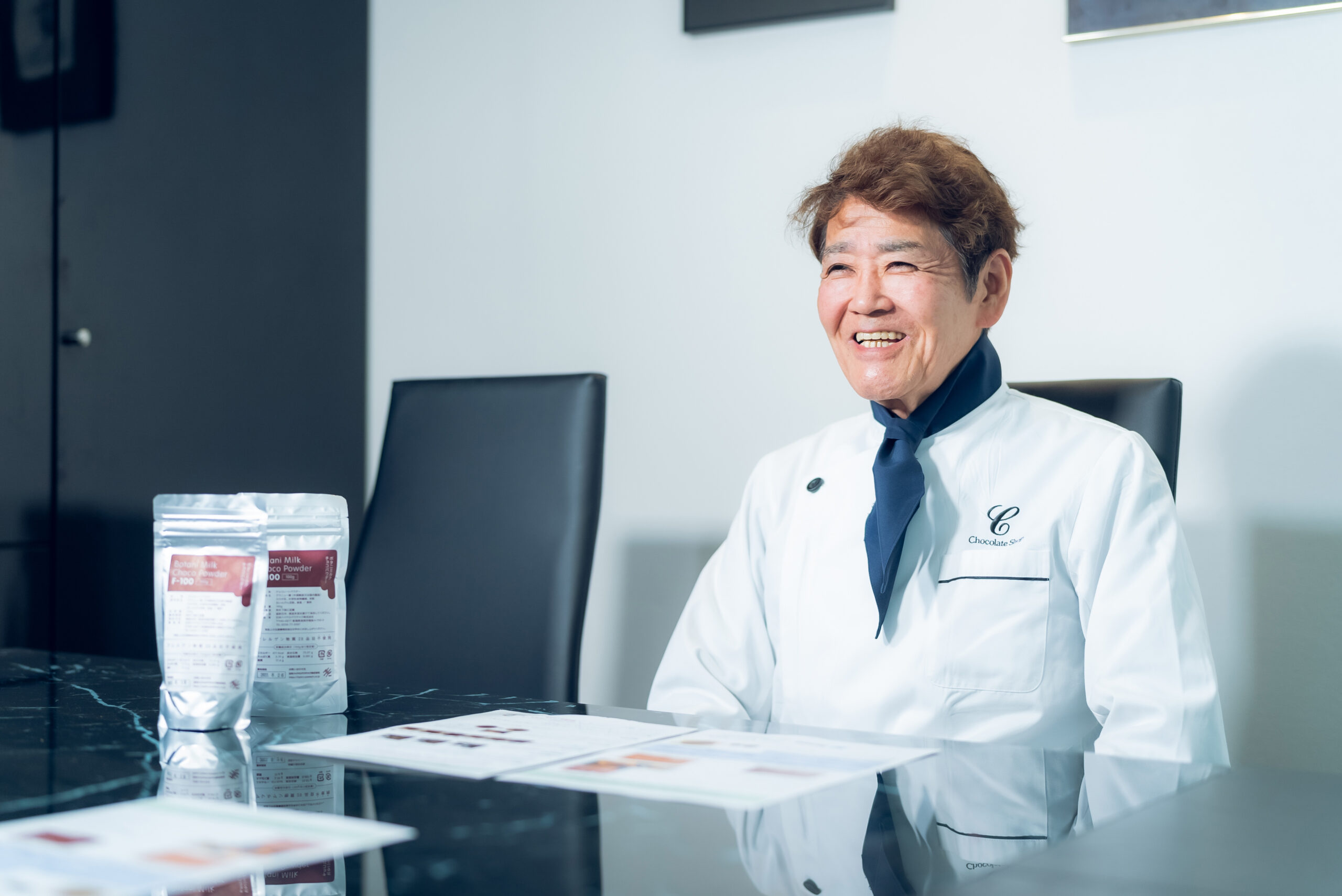 The "Chocolate Shop," founded in 1942, is loved by many and is considered the "beginning of Hakata chocolates." This famous sweets shop uses carefully selected, safe, and fresh ingredients to make a variety of sweets, including its signature "Hakata no Ishidatami" (stone pavement in Hakata). Its current director, Sano Takashi, also works as one of the chocolatiers, creating countless famous confectionaries.
---
Chocolate Shop
Hakata, Fukuoka Prefecture
---
Kumazawa: Our relationship with you began when we visited your store and asked if you'd be open to trying our "Botanimilk chocolate powder." We were drawn to the Chocolate Shop's approach to making sweets and delicious chocolate products. What did you think about our Botanimilk chocolate powder?
Mr. Sano: My first impression was– "this stuff works." It tasted like real chocolate, so I doubted whether it was powdered chocolate. But that's how excellent the quality is. I could imagine our customers enjoying it.
Kumazawa: What kind of sweets did you make with the powder?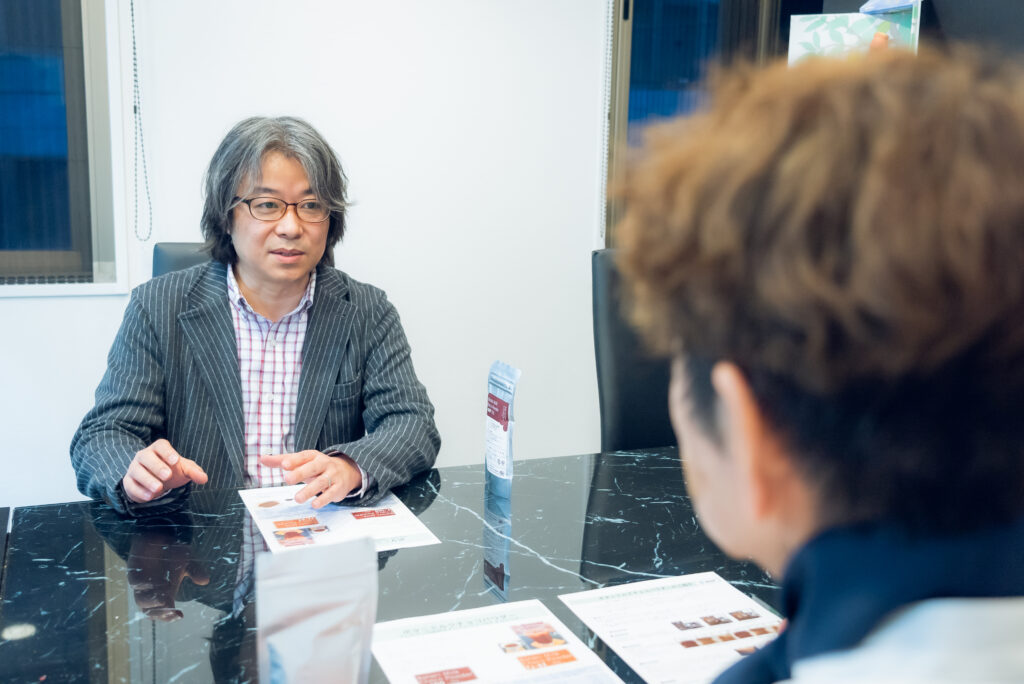 Mr. Sano: We made chocolate truffles first. A typical truffle is placed on a bed of cocoa powder and topped off with raw chocolate powder. However, because it requires refrigeration, the cocoa sometimes melts when customers take it back to their homes. Complications with temperature regulation also meant a heightened risk of food loss. So we messed with…no, tried…your powder on our truffles under different conditions–we put it in the fridge, took it out of the refrigerator…And I was shocked to discover that temperature changes don't affect the powder. We were exposing the truffles to conditions where condensation could easily occur. But there was no stickiness or sweatiness on the truffles.
*"Sweating" refers to the condensation that appears on the surface of sweets due to shifts in humidity and temperature.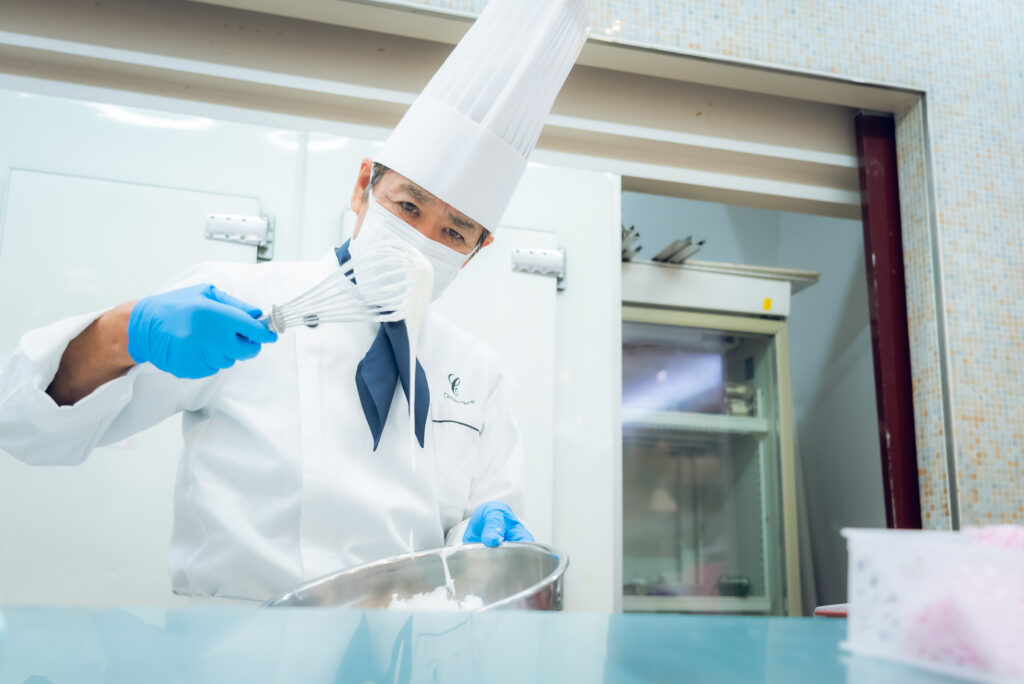 Kumazawa: Ahh, you used our powders in your truffles–and it seems to fit into your recipe seamlessly. What about the flavor or the texture?
Mr. Sano: After two to three weeks, we tried the samples, which instantly melted in our mouths. I've never seen anything like it. The truffles had a rich aroma–I couldn't believe it was made of Botanimilk chocolate powder. Working with the powder made me want to understand how a plant-based product could taste this powerful.
Kumazawa: Ordinary milk chocolate uses whole milk powder, but Botanimilk chocolate powder uses a chemical-free hydrolysate developed using the NHP hydrolysis technology. The hydrolysate is made with white kidney beans and brown glutinous rice. So you have a creamy, milk powder-like flavor when you break down these ingredients. Once we have that, we mix in the cocoa mass.
Mr. Sano: So this technique is unique to NHP?
Kumazawa: Yes, it is. It's also heat resistant and doesn't melt as readily as standard cocoa powders. And since it is water soluble, it dissolves with the water in your mouth when you put it in your mouth. You can also mix the powder with water to make cold chocolate drinks.
Mr. Sano: I see. I wondered what the texture would be like since there's no stickiness to the powder. But I couldn't believe how readily the chocolate melted once I put it in my mouth. It's something else. It's easy and quick to make and dissolves quickly in water. Lumps often form in sweet-making, but this isn't the case with Botanimilk powder. For example, I kneaded the powder into a sponge cake batter, and it baked without problems. The texture is a bit strange, but what is it?
Kumazawa: That must be the fiber. Legumes are pretty fibrous, adding to the final product's texture. Did you try any other recipes? Any other discoveries?
Mr. Sano: The most surprising discovery is that it goes well with fruit puree.
Kumazawa: I didn't know it went well with fruits, either.
Mr. Sano: When fruit puree is combined with a sweet puree, for example, it tastes sour and bitter and a bit harsh, but with this chocolate powder, it turns out mellow.
Kumazawa: It's a new ingredient–you can create unique tastes depending on how you use it. Botanimilk chocolate powder is allergen-free and animal-free, so even those who have avoided chocolate can eat it. It's likely to open up various possibilities.
Mr. Sano: Ingredients like this matter for this generation. My staff was also quite inspired by such an interesting new ingredient.
Kumazawa: There's a lot of attention on Fukuoka, especially from folks outside of Japan, including the greater Asian region. We need to respond to this change by diversifying food, and I believe this Botanimilk chocolate powder can promote that shift. In particular, I would like people with dairy allergies to enjoy chocolate. For example, we asked a child with a dairy allergy who had never eaten milk chocolate to try it. He loved it.
Mr. Sano: I bet he was ecstatic to eat what others were enjoying, especially after being unable to eat it for years. With the Botanimilk chocolate powder, it tastes just like milk chocolate. These sorts of contributions are essential for our current generation.
Kumazawa: Right. But manufacturers like myself can create innovative materials but cannot develop practical applications or present them in a form that'll appeal to people. So that's where people like you come in.
Mr. Sano: And for people like me, we can't create without raw materials. This is why discovering new materials to work with is essential for us too. As society becomes more diversified, we must find new ways to express ourselves and respond to people's needs. We can't keep making what we always made. The Botanimilk chocolate powder is an exciting, innovative product, so I'm looking forward to experimenting with it and expanding the possibilities of sweets. I hope we can continue to work together to create the ultimate plant-based chocolate product.
Kumazawa: I'm looking forward to that too. Your slogan, "the beginning of chocolate," feels optimistic toward the possibilities of aesthetics and beauty. With 80 years of chocolate-making under your belt, I couldn't agree more with the catchphrase.
Mr. Sano: We've been in the art of chocolate-making for 80 years now, so we not only hold the taste of our chocolates to a high standard but our hygiene and safety too. If we can't protect these standards, our pillars crumble as a business. Additionally, the food industry is going through a challenging time in more ways than one. This means we have to connect with our customers on a deeper level to understand how we can be the best version of ourselves and make something that we can comfortably share with our customers. That's what it means to sustain our culinary quality. I'm thrilled to have found a material like this–something I can use to continue to make safe products that I can share with our customers as a token of appreciation for supporting us in Hakata for the last 80 years.
Kumazawa: Thank you too. I'm excited for what's to come for the both of us.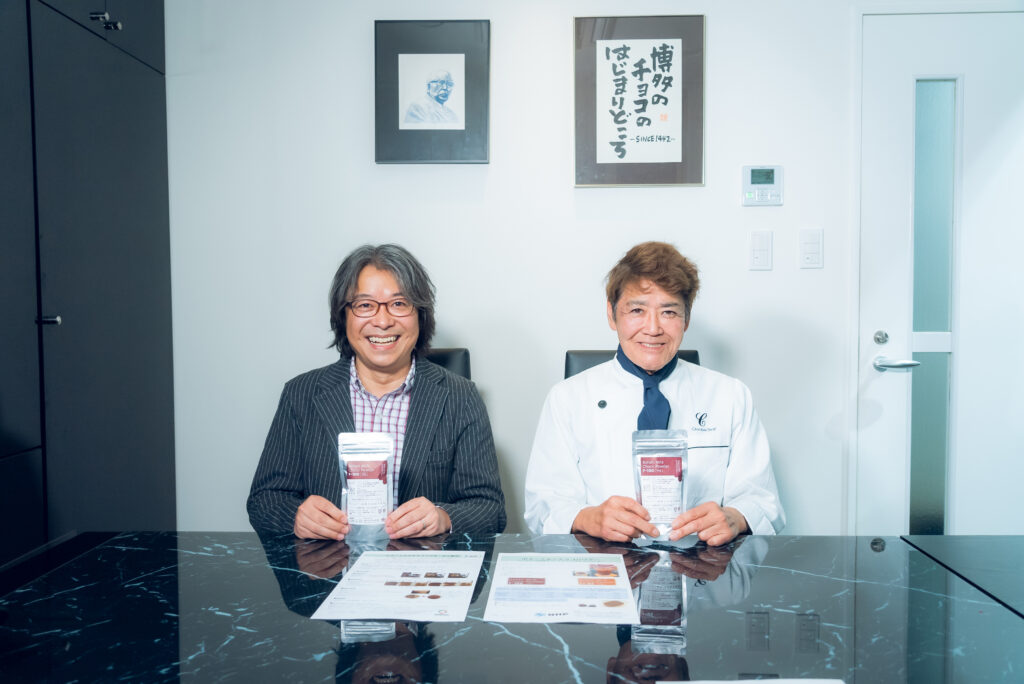 (Interviewer: Kumazawa, NHP)
---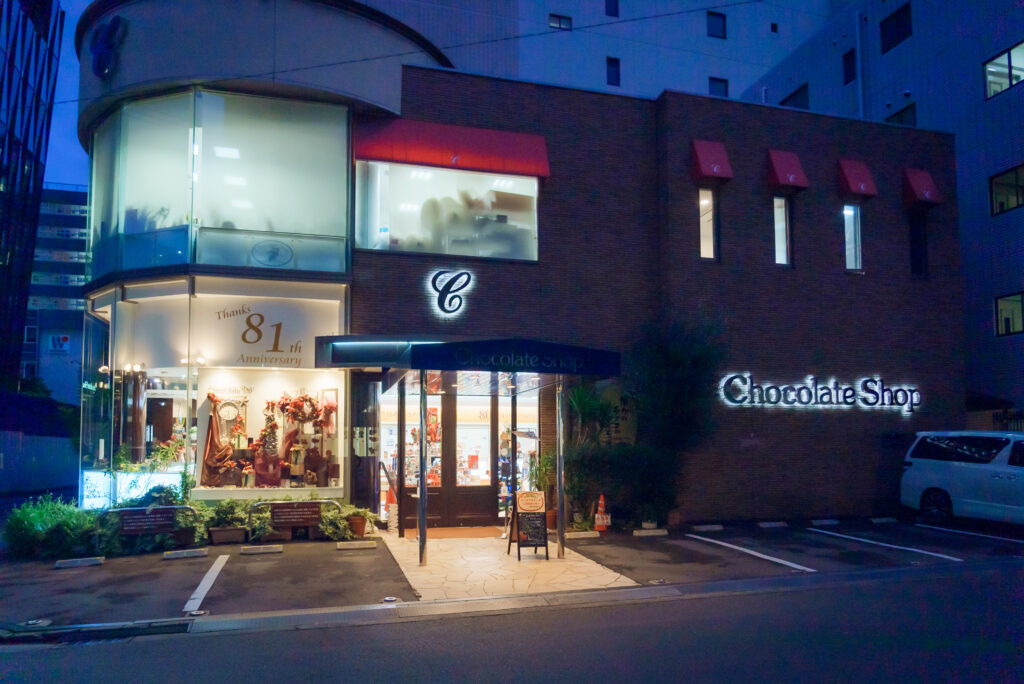 Chocolate Shop
Opening hours: 10:00-19:00 (irregularly closed)
3-17 Tsunaba machi, Hakata-ku, Fukuoka-shi, Fukuoka
JAPAN 812-0024